Aliexpress nettops for entry-level gaming
With desktop graphics card prices reaching the Moon and availability having constant problems players are looking for alternatives. Laptops seems to be somewhat reasonably priced, at least for the entry-level. There are also miniPCs, nettops, that are cheaper than laptops and some offer that entry level gaming performance with GTX 1650 or decent integrated graphics. In this overview I want to go over Aliexpress nettops capable of such entry-level gaming.
The Topton Ryzen nettop is a relatively new product. For the 8-core 4800H we will have to pay around $610 and $490 for the 6-core 4600H (without RAM, storage and WiFi card). It uses the mobile CPU known from laptops and the performance is really good. For gaming it offers integrated Vega 7 and Vega 6 respectfuly so only light gaming, media center usages will be possible. The 8-core version could also be a really good developers PC if you need only the CPU part of the system.
In terms of value/price it's bit mixed. Depending on region (or just from Aliexpress) you should be able to get like Ryzen 4650G APU ($230+) and build a small form factor system for similar price in total leaving the option to use better RAM and later on dGPU. There are also prebuild system based on Ryzen 4600G and 4650G.
CPU: 4600H (6/12) / 4800H (8/16)
GPU: Vega 6 / Vega 7 integrated graphics
Dimensions: 195x195x47 mm
I/O: 4xUSB2, 2xUSB3, HDMI 2.0, DP, GigE Ethernet, WiFi/BT, Mic/Speaker, USB 3.1 Type-C with 3x4K@60Hz support
Storage: 2x SATA, 1x NVMe
GPU upgrade options: eGPU via NVMe slot if it will work on this system
Price: $490+/$610+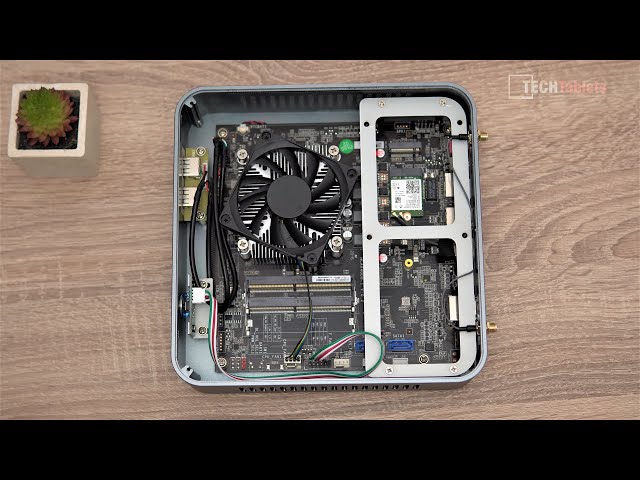 Although only released for OEM some local stores do stock them and Aliexpress isn't worse at it as well. The prices between EU/Poland and Aliexpress seems nearly equal. For Ryzen 4650G you will have to pay $230 or bit more. It's a 6/12 part that basically is like Ryzen 3600 with added integrated graphics.
Aside of the CPU there are OEM miniPCs and desktops build around those APUs so you can check pricing on them as well. Locally a Lenovo IdeaCentre 5-14ARE is priced around $640 although as it's and OEM system any upgrades or customizations may be limited or problematic due to non-standard parts or connectors.
The parts ending with 50G are for corpo/pro-sumer market (like Intel V-pro) and usually cost bit more than parts ending with 00G. Ryzen 4600G and 4650G are pretty much identical, just that the 4650G has the pro management features for corpos - and paradoxically is more widely available in some stores or on Aliexpress. OEM prebuilds using the non-pro parts should be cheaper from the pro-ones though.
Even though Vega 7 integrated graphics can't match the performance of like GTX 1650 in nettops listed below it's still capable of running light games. When compared to AMD laptops parts you can use better desktop DDR4 insted of the laptop JEDEC-only SODIMMs, this boosts the iGPU performance a bit. On top of that you can pick cooling, case and in future add a good GPU to get pretty much Ryzen 3600 + GPU system.
Some motherboard vendors (I've seen Gigabyte) list the APUs on motherboard support lists, but not everyone does - not sure if they actively not support them somehow or if they just list officially released parts.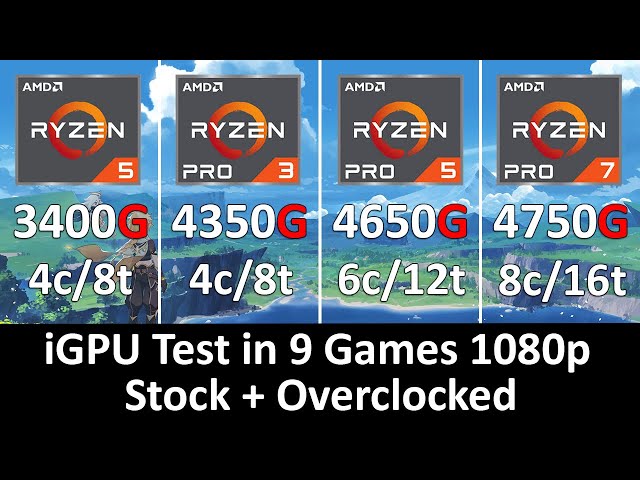 This miniPC is available in multiple stores. One of them is Hystou. It offers a quad core Kaby Lake laptop CPU paired with dual fan Onda RTX 1650 4GB GPU, which looks like their Aegis model. On the EU market Onda sells tablets and various accessories.
This is a bit bigger miniPC that fits a regular dual-fan GPU inside. The prices start at around $740 which isn't supper cheap but locally in EU/Poland the GTX 1650 starts at around $435-$560 alone.
I could not find reviews of this specific models, but similar design with for example low profile Gigabyte cards have been reviewed. The CPU isn't on the modern/strong side, but should still manage in light gaming and offer some DIY option of upgrading GTX 1650 to similar GPU down the road (like RTX 3050 in theory).
CPU: i7-7920HQ (4/8)
GPU: GTX 1650
Dimensions: 270x240x69 mm
I/O: HDMI, DP (both labeled as 4K), DVI, 6 x USB 3.0, 2 x USB 2, 1 x Type-C USB 3.1, Mic/Speaker, GigE Ethernet, WiFi/BT
Storage: 1x NVMe, 1x SATA
GPU upgrade options: similar sized desktop GPU of comparable power draw likely can be used as a replacement (will require modifying side of the case). Possibly the NVMe slot could also be used or a riser from the x16 slot to external GPU with it own power supply
Price: $740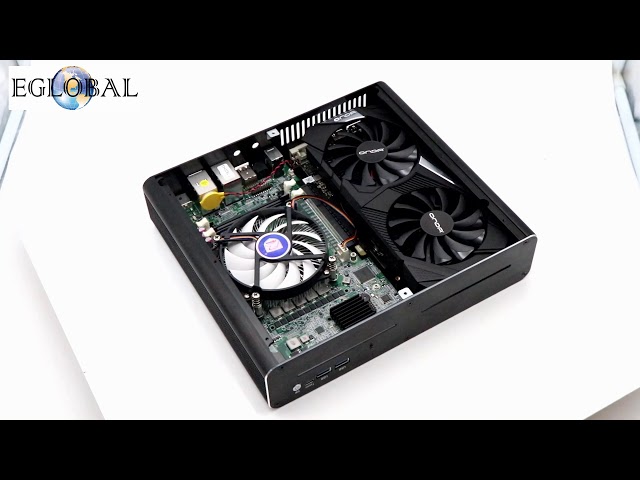 This is nice looking slim miniPC available on multiple stores under different brands, for example Topton. You can pick from 4/8 i5-9300H up to 8/16 i9-9980HK and paired with GTX 1650. The GPU is on the main PCB so there is no upgrade options and both CPU and GPU are cooled by one laptop-alike cooling solution that won't be that quiet.
As the TechTablets review show the higher tier configurations will be loud under load as the cooling solution is quite small. However if you want something super small this is as small as it gets with a dGPU.
CPU: from i5-9300H to 9980HK
GPU: GTX 1650
Dimensions: 222x195x39 mm
I/O: 2x USB2, 4x USB3, DP, HDMI, USB Type-C, Audio/Mic, GigE Ethernet, WiFi/BT.
Storage: 1x NVMe, 1x SATA
GPU upgrade options: GTX 1650 integrated on the board, not upgradable, theoretically eGPU via NVMe.
Price: $600-$800+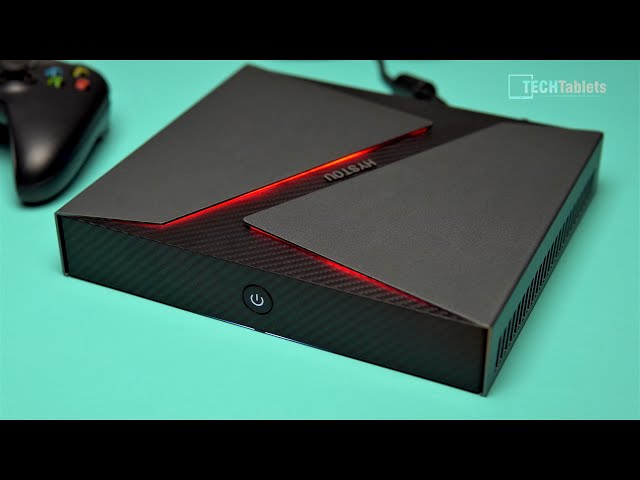 This is a similar slim MiniPC that is based around socketed Coffe Lake CPUs (and few others depending on shop you visit). The design seems a refined version of similarly looking MiniPCs peope got to review in the past - the case sides are perforated and the CPU cooler is using a big fan instead of laptop style one.
The device is small but still manages to use a low profile GTX 1650 graphics card from Gigabyte. Some older models used a dual fan low profile Gigabyte card as well.
CPU: (6/6) i5-9400F (depending on shop 9100F-9700F or KabyLake CPUs are available)
GPU: GTX 1650 low profile
Dimensions: 277x201x56 mm
I/O: 4x USB2, 4x USB3, 4x HDMI, 1x DP, 1x DVI-D, GigE Ethernet, WiFi/BT, Mic/Auto.
Storage: 1x SATA, 1x NVMe
GPU upgrade options: Low profile GPU of similar size and power draw (will require modificaiton of the side of the case) and possibly and eGPU via NVMe slot or riser from x16 slot.
Price: $600-$670+
Partaker offers a set of miniPCs in alluminium chassis using desktop and laptop CPUs. They use a brushed aluminum mid-sized case that holds the mainboard and a low profile MSI GTX 1650 GPU.
CPU: i3-9100F (4/4), i5-9400F (6/6) / i7-9700F (8/8)
GPU: GTX 1650 low profile
Dimensions: 280x200x65 mm
I/O: 5x USB2, 2x USB3, DP, HDMI, DVI, GigE Ethernet, WiFi/BT, Audio/Mic
Storage: 1x NVMe, 1x SATA
GPU upgrade options: Low profile GPU of similar size and power draw (will require modification of the side of the case) and possibly and eGPU via NVMe slot or riser from x16 slot.
Price: $500+/$600+/$730+
If you sort your search results by price ascending you will very likely find some fake shops offering same items for way less. Do not buy there. They do get closed by Aliexpress but new ones do pop up.
Before buying check store reviews - it has to have a lot of reviews (positive at that) and the rating of the store must be high. Next click on the shipping method and double-check that is has tracking. Fraudulent stores use no-tracking shipping quite often.
Also more popular items in bigger shops will have customer reviews down the page which may also include images of how the item looks like - worth checking if you are interested in one of such nettops.
Also Aliexpress offers can use color slots to offer different variant of given product. Sometimes the offer title is different than what those slots offer so double check what you are selecting:
To use a nettop you will need a display, mouse, keyboard and some speakers. A laptop has all of that built in but also takes away the choice so you may be left with a poor screen, speakers or the keyboard. Life isn't easy...
Locally a Lenovo IdeaPad Gaming 3-15 with Ryzen 4600H and 1650 Ti starts at around $740 USD (EU/Poland) as the cheapest laptop with GTX 16-series GPU. Most of Lenovo Legion 5, HP Pavilion Gaming or Acer Nitro with 4600/4800H or Intel 10750H will be priced bit higher at around $890 and up, some with much better 1660/1660 Ti.
Also soon Nvidia will release their RTX 3050 cards which can reshuffle entry-level laptops sending existing ones on sales so that so 3050 can replace them. This can be a quite good value GPU, especially for games that support DLSS.