Cyberpunk Shotgun Smartass build
There is a lot of overpowered builds in Cyberpunk as there isn't that much balance here and there ;) This time around instead of annihilating 10 000 gang members at once with Contagion or Comrade Hammer I'm going to present you a Shotgun Smartass build - the goal is to pass most handy attribute checks in the game and have a fun, fast fluid (and of course overpowered) combat build.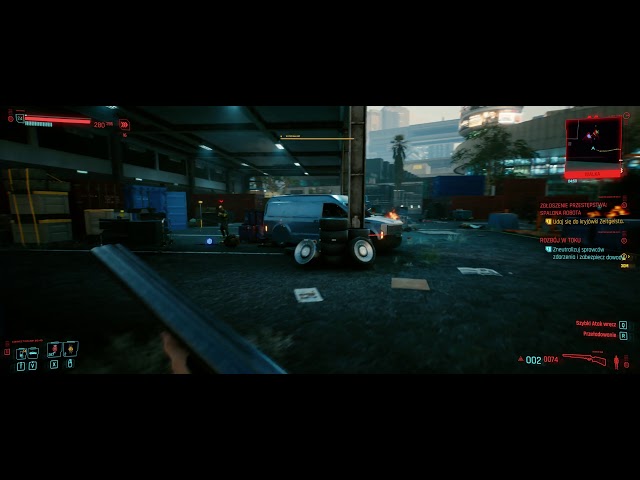 There is a lot of doors that open with Tech or Body attribute check (or dialogue options), so we will have high value in both attributes. We also want high tech to craft Sovereign iconic shotguns and other things. Plus we need some Intelligence to hack access points for profit and legendary quickhacks (and legendary Short Circuit in particular). We won't be quickhacking for damage but rather for utility - disable weapon, cyberware and alike. And to gain even more power - Cool and Cold Blood perks.
The attribute stat distribution looks as follow (character planner):
This provides all needed perks and covers most stat checks we are interested in. As we have some attribute points left we can assign them as we see fit. Based on Int/Body cyberware unlocks at 16 we can go with this:
We get +85% armor from Tech and +100% from Cold Blood. This is immortality even on very hard difficulty (excluding explosions and melee weapons which one-shot anyway).
20 Tech isn't that much needed (18 to craft legendaries) but hey, it's nerd time and if you level up the tree to unlock capstone perk Satara and other tech weapons could get even more fun.
Key concept for this build is speed and juicy hits from shotguns showing lots of pellet hits (and hits staggering enemies, like bosses preventing them from attacking).
Manic: When entering combat, your movement speed increases by 20% for 10 sec.
Momentum Shift: Defeating an enemy increases movement speed by 20% for 10 sec.
In Your Face: Reduces reload time of Shotguns and Light Machine Guns by 40%.
Bloodrush: Increases movement speed in combat by 10% while carrying a Shotgun or Light Machine Gun.
Mass Vulnerability daemon: reduces resistances for all enemies in the network by 30%.
Our go-to weapons will be shotguns and some LMG and snipers for some longer range combat. Precision riffles can also benefit from high Tech value and perks if you like them. The shotguns I would recommend is iconic Sovereign (Japantown) and generic DB-2 Testera - double barrel double shoot shotguns. You shoot two shells at once, quick reload and repeat. This is an extreme power in one fire action. Tech shotgun Satara is also nice to have to blast people through cover. Sovereign iconic Igla shotgun shoots two shells if fired while aiming and has faster reload time.
Shotgun damage is represented as damage done per pellet times amount of pellets fired. Some shotguns shoot more pellets than other. Above you can see Crusher doing less damage per shot but offering faster and longer fire rate. Amount of pellets will play a role for Short Circuit legendary passive effect - every critical hit will apply base short circuit damage - and if lots of pelleta crit then lots of additional electrical damage. If you don't want to go crafting route then use Testera shotguns - they have bit shorter range but always shoot two shells (where as Sovereign only when aiming).
As shotguns shoot multiple pellets a weapon mod that increases damage - Kickass - will be very strong with them. You can craft Kickass just like Armadillo - depending on your level they will proc up to epic.
When you equip a weapon you will see it base stats, but after you use it the weapon chart will also add some of your character modifiers that apply to given weapon type (like from perks) - in this case crit chance and crit damage plus fire rate. I hope they improve the UI for all those stats...
With this build we want to hack majority of access points, pass every tech check and most body checks - used in dialogues, to open extra loot or convenience doors and so on. Note that you can disable cameras via hacking but also by moving to the camera and using Tech attribute check (like after disabling it with a hack for experience in both trees) - although both actions don't disable cameras or turrets permanently - some enemies when entering combat will re-enable them (so just detonate turrets if you see one active).
Aside of existing glitch money making (which may be patched out any patch...) we can farm respawnable mobs for expensive epics at level 50 or use crafting to craft some cheap-to-make but expensive to sell chest pieces.
Overall majority of early and mid-game income will come from hacking access points you find on your journeys so get that cyberdeck and get ready for some protocol breaches.
As we aren't dumping perk points into hacking trees we will be using hacking to get money and hacks from access points but also to get utility hacks to disable enemy weapon, cyberware or sight. Hacking some access points (like 10+ int ones) has a chance to give legendary quickhacks - if you find one save, hack, check what if any hack you got - if it's bad reload save. Cyberpsychosis or detonate grenade can also be sometimes used for fun. Be sure to farm legendary Short Circuit.
Starting attributes are as follow:
Body: 6
Tech: 6
Intellect: 4
I would advise starting on normal for the first levels and then changing if you want to. When you start the game do the initial quests, meet with Dex, get T-Bug daemon and then start doing blue markers - criminal activities, leave yellow markers for later (some have stat checks we won't pass at this low level). There is a lot of 4-int (or lower) access points in Kabuki and Watson in general so don't miss any.
Use riffles, pistols and blades to level up their trees to 3 to get extra perk points, try leveling hacking and protocol breach along the way for even more perk points. When you max out annihilation with shotguns and LMG try doing some blunt melee fighting to level up that tree and get even more perk points.
Clearing blue markers should give level 8 or alike:
Body: 9
Tech: 8
Intellect: 5
Cool: 4
The goal of early levels is to rise Body and Tech to 8 and then start working on Int with a bit of Cool. There are some 8-body/tech checks early on. There are few 5-int and two 6-int access points in Watson.
From perks you want speed and faster reload in annihilation for shotguns and LMG, mass vulnerability in breach protocol, cold blood to enable leveling it up.
I bought legendary cyberdeck from Kabuki Market ripper and double-jump legs. Other cyberware is random freebies from loot, including legendary monowire. I also picked few legendary clothes that are available in Watson and put green crafted armadillos (at this character level armadillos won't proc to rare/epic levels).
At this point with extra armor you can switch to hard/very hard or play on normal and do some melee with blunt weapons.
Cleaning everything in Watson before doing Konpeki Plaza should give you level 14-15 and some nice build rolling:
Body: 11
Tech: 8
Intellect: 7
Cool: 7
After getting some Int and Cool you should get some Body to unlock more Anihilation perks for shotguns.
After doing The Heist you can start doing map markers in Pacifica and most of Westbrook/Japantown - this should give you level bit above 20 and enough attribute points to move Int to 10 to be able to hack essential access points (legendary hacks) as well as Tech to 12 to be able to craft epic items - and Sovereign is an epic crafting recipe that drops from one of blue markers in Japantown.
Body: 12
Tech: 12
Intellect: 10
Cool: 7
At this point you can go for Body to unlock extra speed perks and Cool to start enabling Cold Blood bonuses.
Going to 16 Body unlocks some cyberware like Second Heart which is handy for melee as it allows you to survive explosions or melee one-shots. 15/16 Intelligence unlocks Crit chance and Crit damage legendary cyberware – essential to get 100% crit chance with shotguns. At 16 cool you will be able to add resistance and damage reduction legendary cyberware from Fingers.
You will want to visit police station map marker in city center as soon as you will have levels for it - there is around six 10-int access points that will grant you legendary hacks. Just save/reload. If you are getting epic ones - you are to low level.
You will want to equip legendary Short Circuit as soon as possible plus utility hacks to disable boss weapon, cyberware and alike as needed. Don't focus on contagion/overheat and alike.
Be sure to re-craft armadillos, kickasses every ~10 levels as they do scale to your level at the time of crafting.